These Easy Thai Peanut Salad Cups are the perfect healthy mini appetizer. So easy to prepare and great for friend, family gathering and parties. Oh … once you make this salad cups, can't stop eating them. The crunchiness of baked "wonton" and exotic taste of peanut sauce over shredded veggies.
Such a light snack/salad … so refreshing  and satiating in a healthful and delightful way.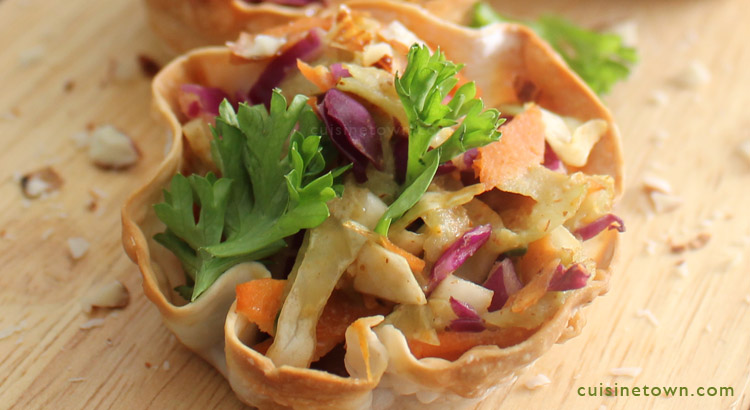 Speaking of healthy salads and recipes, have you ever look at my healthy Kale salad with cranberry, almonds and grapefruit.
In addition, this is easy and inspired version of original peanut dressing.
New Year is just round the corner and this is the last recipe of 2017…
May the universe bless you in surprising and joyful ways.
Happy New Year 🙂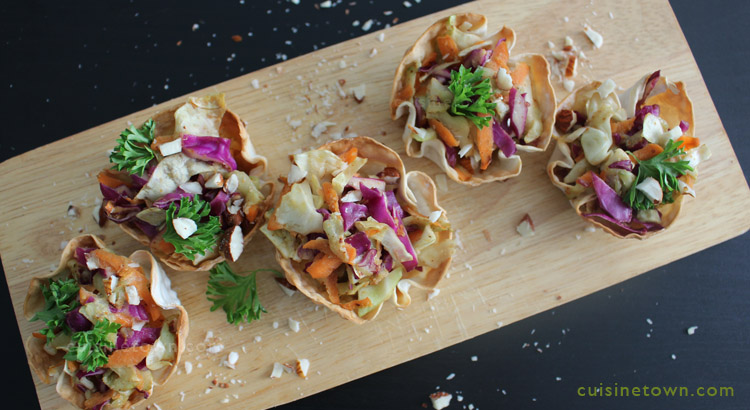 Yields 3-4
Easy Thai Peanut Salad Cups
12 minPrep Time
12 minCook Time
24 minTotal Time

Ingredients
24 wonton wrappers
2 tbsp. peanut butter
4 tbsp fresh lemon juice
4 tsp coconut oil
1 tbsp soy sauce
2 tbsp garlic powder
2 tbsp ginger powder
1 tsp chili flakes
Pinch of salt
Vegetable oil
1 cup shredded cabbage
1 cup shredded red cabbage
1 cup shredded carrots and cucumber
2-3 tbsp crushed peanuts
Instructions
Preheat your oven to 350 degrees. Spray your muffin tin with cooking spray and press wonton wrappers in to each muffin tin, grease woton wraps. Bake at 350 degrees for about 10-12 minutes or until the cups are crispy and slightly browned.
In a small bowl combine the peanut butter, lemon juice, coconut oil, soy sauce, garlic powder, ginger powder, salt and red pepper flakes and whisk very well - if sauce too thick add 2 tbsp. water. Set the dressing aside.
In large bowl add the shredded cabbages, carrots and cucumber.
Pour the dressing over the cabbage mix and toss well.
Just before serving spoon the cabbage salad into the wonton cups.
Top them with parsley and crushed peanuts and serve immediately!
Notes
If you're making them for a party, prepare the salad ahead of time but do not add dressing and keep it in the fridge.Just before serving, spoon the salad into the cups. to keep woton cups crisp and fresh.
7.6.7
143
http://www.cuisinetown.com/easy-thai-peanut-salad-cups/