Baked Parmesan Chicken, hard to resist.  😀
I really like the classic version of chicken Parmesan but this healthy version is tasty and delsih too.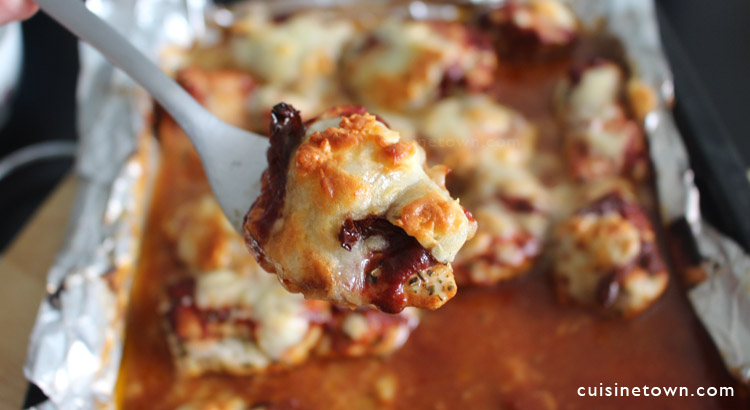 Couple of years ago, we celebrate our wedding anniversary  in a spa wellness resort.
And dined at their Italian organic restaurant. We ordered chicken Parmesan and baked salmon. Oh chicken Parmesan was  divine…juicy, tasty and light.
First of all, they  remove some unhealthy steps like not breaded chicken breast and not fried it.
So flavor is the key for this light recipe and just bake with great seasoning.
They seasoned chicken with garlic, basil, oregano, organic tomato sauce and good quality parmesan cheese.
Since then I've been making this simple recipe for years, and my hubby loves it.
Also you can slice chicken breast in to 6,7 pieces, to be more kid friendly as kids love small bit foods.
Finally serve it over pasta or quinoa or with a salad.
Baked Parmesan Chicken
10 minPrep Time
20 minCook Time
30 minTotal Time

Ingredients
2 chicken breasts
2 tbsp. extra virgin olive oil
1 tbsp. Basil, Dried
1 tbsp. Oregano, Dried
1 tbsp. Garlic powder
¾ cup tomato sauce
¾ cup Parmesan
Instructions
Preheat oven to 180°C/350°F .
Cut chicken breast in 6,7 pieces.
In a big bowl, add chicken pieces, olive oil, basil, garlic powder, oregano and salt then mix to combine.
Place marinated chicken in baking pan and top with tomato sauce.
Bake 10 to 12 minutes.
Then top with Parmesan cheese and bake another 5 minutes, until lightly browned edge.
Let them cool and enjoy.
7.6.7
145
http://www.cuisinetown.com/baked-parmesan-chicken/