These Easy Grilled Chicken Wraps are perfect for hot summer days/ nights.
They are so simple and quick to make and can be prepared ahead of time for busy week nights.
Also they would be great for a picnic or brunch. Even with leftover chicken you can have nice chicken wraps.
We love these pan fried wraps so much, with out any extra oil you get crunchy spicy wraps. Oh… Cajun seasoning
give these yummy wraps extra flavor along with melted cheese sooooooo good.
You can put anything in your wraps from different sauces to fresh herbs such as parsley and veggies. I would serve them with ketchup and a simple green salad as a side.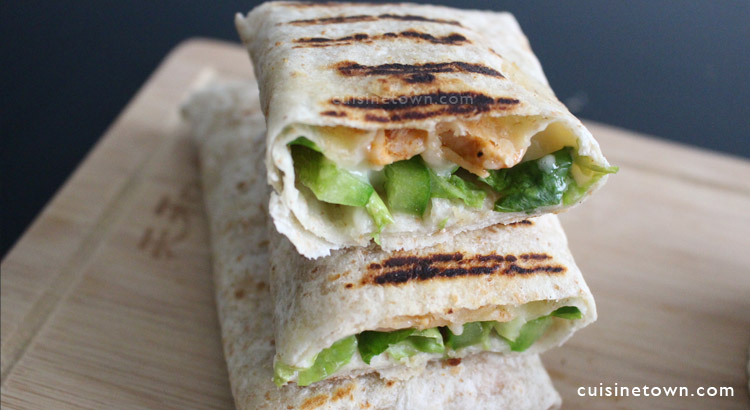 Also have a look at my other Cajun recipe.
Easy Grilled Chicken Wraps
10 minPrep Time
15 minCook Time
25 minTotal Time

Ingredients
200 gr. Chicken fillet
2 cups lettuce – chopped
1 bell pepper - chopped
1 cup Parmesan cheese - grated
5-6 flour tortillas
2 tbsp. Cajun seasoning
1 tbsp. Onion powder
Instructions
In a small bowl add chicken then Cajun seasoning and onion powder and toss to combine.
Cook the chicken for about 8-10 minutes… let it cool for a minute.
For assembling: first Warm tortilla wraps then Layer tortillas with chicken slices, lettuce, bell pepper and cheese.
Now fold the edge towards the center then Roll the wrap up, keep the fillings tight.
Place the grilling pan over a medium high heat.
Then Put the wraps side down on the pan let grill for a minute or so. Turn the wraps after about 2 minute or until you have nice golden grilling mark on wraps.
Serve immediately.
7.6.6
137
http://www.cuisinetown.com/grilled-chicken-wraps/